Message from Utt

UTT SHOWREEL

PEPSI Twist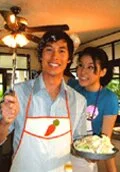 Hello Utties, 



Hope you like the new flash page. I'm still working on some new changes to the site so please come and visit us as often as you can.



I have also updated the contact page so that it will be easier for all of you to contact us.



Don't forget to check out our new look to the photo gallery section.

Again.. your comments and suggestions are really helpful. Please feel free to e-mail me. Please put your subject as : utt website.

Btw.. thanx to Baizura , Chris and Zafirah Ab Rahim for contributing pix and articles for our site.



ji





E-mail me at:
| | |
| --- | --- |
| SUBJECT | Hits 1308 | Post 43 |
Q0051
Utt & KC
 

I heard that UTT was SEEN with a filipina who goes by the name KC Concepcion in a bar in Phil.They
were there with some of their MTV buddies. They looked good together. KC is a model in the
Philippines. She's only 19 and on vacation from her studies in Paris when she was seen with Utt.
KC is actually popular in the Phil, known for her beauty and wit. Many movie producers run after her
but because going on films is not her priority, she chose to drop the offers & be a full time
college student in the American University of Paris instead. No regrets, she just finished her
freshman year in there and now she's working as secretary in a TV Company in Paris, which is
Propager. She also worked as an MTV VJ a few years ago.And by the way, she's agood friend of
Donita!
Crunch :: 17/09/2004
 

utt & kc
ew kc? last time i was at the philippines...she was reeallly ugly. reminds me of kelly
osbourne...anyone?
Angela :: 12/11/2004
 

utt & kc
whoaa...they look good together...shes really pretty and smart...and has good breeding...she comes
from a well off family in the phils....shes pretty...hmm..i hope someone can post her
pic...here...so people may see how she looks like...utt is so handsome.
:: 19/11/2004
 

utt & kc
hey, Angela! I think u dnt know at ur talking about. KC is not ugly. She is one of the most
beautiful models in the Phils (including Donita)in case u dnt know. Maybe there's something wrong
with ur eyesight coz I have seen her up close & personal when I was in the Phils and man how she
stunned me. The TV doesn't do her justice.She's so stunning. Maybe it was not KC u saw! Just for
the record she's more beautiful than Donita in person! She has legions of admirers, both foreign
and Filipinos,
:: 21/11/2004
 

KC Concepcion pictures
Those who are interested to see KC's pictures go to ca.groups.yahoo.com/group/kcconcepcion_group

But u have to be a member to view her pictures
:: 21/11/2004
 

KC
[img][/img]
:: 21/11/2004
 

NONSENSE
WHOM OF U IS WATCHING LOVERS IN PARIS

mil :: 07/12/2004
 

kc concepcion
kc is absolutely beautiful!For me shes the prettiest of them all...I really admire her sense of
responsibility...shes the best!
:: 09/12/2004
 

kc concepcion
kc is absolutely beautiful!For me shes the prettiest of them all...I really admire her sense of
responsibility...shes the best!
:: 09/12/2004
 

Hbsche KC
I luv KC..she is pretty inside and out..i wish my baby girl would look like her.
:: 11/12/2004
 

KC\'s in Paris now.
she's in paris with her french boyfriend. not that i know her. (she was on seveteen
philippines--again--recently) but i still do not like kc. hahaha. i think she's smart. and
pretty. and sharon cuneta's daughter. and senator pangilinan's stepdaughter. i think she's made
her own name and has stepped out of her mother's shadow. yet i am not a fan. if they're
happy together, good for them. but i still do not like her
:: 16/12/2004
 

kc is the best!!!
Kc is very pretty and very intelligent, she is really gifted. Many of us in the philippines admire
her, she's one of the "crush ng bayan" here. Utt is lucky to be with her because it is
many ma's dream. She's my idol!!!
:: 27/12/2004
 

[email protected]
Ma. Kristina C andra Concepcion is definitely gorgeous! Utt should definitely go after her.

FAYE :: 28/12/2004
 

KC
angela,

i think u r the cheapet doll compare to KC. she is the smartest and beautiful human being i have
ever seen
:: 19/01/2005
 


she is a ! tryin to be innocent and ! puh-lease! going out with every guy she meets!
ugh!
kcisawhore :: 23/01/2005
 

female dog!
shes a prostitute! she loves britney spears! eeewww! now we all know why she acts like that! she
loves britney for god sakes!
k- ! :: 23/01/2005
 

KC is a real head turner..
sorry na lang sa mga detractors ni KC Concepcion, kase no matter what she is still pretty to
everybody especially to guys.. at sa yo angela.. huwag ka ng mainggit, loser ka siguro at insecure..
kelly osbourne is totally opposite as KC.. baka kayo ni kelly magkaing mukha FAT GIRL..

:: 26/01/2005
 

Beauty and Brains= KC
No matter what other people say about KC..
She's still beautiful to me. Don't get jealous of her beauty girls, ano ang magagawa niyo habulin
talaga si KC ng mga lalake, my prostitute ba naman kayang mag-aral sa Paris..Quiet na lang kayo if
you can't say good things sigi kayo baka kayo malasin..
:: 01/02/2005
 

utt ang gweapo mo
utt, ang gwapo gwapo mo... sana matsupa kita.. facksheet ka!!! ang laki siguro ng titi mo!!!!
junler :: 02/02/2005
 

Shut up all u losers!!!
Undoubtedly, KC has it all--stunning beauty,brains,charm, cl ,and talent. When u combine all that,
she's more likely to be envied than liked by the female sex. So I understand why KC's detractors
are so slanderous.For those detractors of KC, mamatay na lang kayo sa inggit kasi walang-wala kayo
sa kanya noh!!! I think those people who say demeaning things against her,well,they say those so as
to make themselves feel better. No good-mannered "lady" would ever utter the word
"whore" or the like against anyone, right "kcicawhore",? At cno ba naman sa
21st century ngaun ang hindi nagdi-date unless sa tanang buhay nya wala talagang nag-invite sa
kanya. Bka naman dun sa nagsabi na she dates every guy she meets, hello are u a nun? How do u get to
know guys if u don't date them? Si KC dates guys with chaperones and friends.Of course, her mom
knows. Selos ka lang cguro kasi wala cgurong nagkakagusto sau!!! Whether she dates or not and
whether she's pretty or not, it doesn't make her a whore or a slut!!! Amazing, isn't it, how
green-eyed jelousy makes anyone think ill of their fellows?
:: 07/02/2005
 

hi!!kc!!
sana ur fine and i hope marami pa picture mo at commmercial kang iiindorse!!
:: 08/02/2005
 

kc
she!s definitely gorgeous that envied by some insecure gals out there!!!
jad :: 08/02/2005
 

KC and UTT
I love KC. she's very pretty, well mannered and intelligent. One of the nicest filipina. kaya dami
nagkakagusto sa kanya. im sure even prince william would bow down to her...
:: 10/02/2005
 

i love KC!
KC has BEAUTY AND BRAINS! lhat ng dtractors nya inggit lang nila... Ugly??? gosh, may ugly bang
naku2hang commercial endorser???hello?????at take note...she's really an effective endorser noh...
hndi mssbing prostitute ang grl kung nkkipag date cya sa diff guys... tlgang mganda lng sya pra mgng
hbulin ng guys noh... she's consistent honor student nung highskul noh... sabi nga ni robin, may
prostitute bang nag aaral sa paris..??? insecure ka lang angela at sa iba pang dtractors nya!!!!
quiet na lang ksi kayo!!!! basta sa laht ng fans ni KC...we rock!!!!
:: 10/02/2005
 

KC is pretty!!!!!!
sana tumigil na kayo!!!! nkasma ko na si kc once at super bait nya....at ang ganda nya!!! down to
earth person tlga cya!!! kya sayo angela, sorry ka nlng dhil KC was born to be talented, smart,
witty, nice, sweet at pretty,very pretty-inside and out.....not like you! very judgmental!!! sabi
nga sa bible.... don't judge other people, because when you judge others, God will judge you
back...malaking karma yan...mtakot ka!!... kung ikaw kya sbihan ng pangit or ano man... nkkinis
db??? ssbihn mo cno ba sila pra i-judge ako???.....ganon din kming mga fans ni kc...cno ka ba pra
i-judge si KC???? ikaw ba ngpakain sknya, ngbgay buhay???? HINDI!!!! kya pls tumigil ka
na..................
:: 10/02/2005
 

mga walanghiya kayo!
bakit kaya ang mga taong talunan, kapag nakikita nilang umaangat ang kapwa nila ng higit pa sa
inaakala nila, imbis na papurihan at tularan, sinisiraan pa... huwag ko lang kayo makita ng
personal, manghihiram kayo ng mukha sa aso, i swear... ni hindi niyo nga kilala ng lubusan yung tao.
you are all losers! get a life!
:: 12/02/2005
 

WHORE????
hu d hel r u 2 jdge a person u dnt even know???
wat f i tel u dat ur w0rst dan kc c0ncepcion???
just mind ur 0wn bus...!!!!!!!!!!!!
:: 13/02/2005
 

she\'s great
KC is great!!! Para sa laht ng naninira sa kanya, tumigil na kayo kc lalo lang nakikita na wala
kayang kwenta at insecure alng kayo...No matter what you say, you dont know who KC really is kay you
guys better kepp your mouth shut. We love Kc and we know She's the best!!!
:: 15/02/2005
 

Batig Nawong!
ShES UGLY. SHE ALWAYS PRETENDshe was innocent yet wise. i dont like her because she change her
family name! she like her mom. shes so OA. maarte pa.... [img][/img]
:: 26/02/2005
 

UGly
her face is like a gay! feeling niya all the boys like her.. shes so really maarte.. okay sana cya..
pero nung she was change her family name shes so eeewwwwhindi kasi bagay sa kanya ang apelyido niya
ngayun......wwwwwww!
:: 26/02/2005
 

she\'s not maarte!
pano nyo nmn nsbi na maarte si KC??? kilala nyo ba cya????? hello???ugly???? duh???? bulag ba
kyo???ano ba mganda snyo???? b4 nga kyo mag judge ng tao...tingnan nyo muna sarili nyo sa
salamin.... porke ba she changed her surname, pangit na cya...name lang un noh...wla nmn
nagbago...mganda and down to earth pa rin cya....
:: 02/03/2005
 

KC down to earth young lady
to all of the detractors of this beautiful, fine lady. why dont you take a look at yourself at the
mirror first before you say those nasty things. i believe that, how you describe a person is how you
describe yourself. you dont even know the person, so why dont you just keep your mouth shut! you are
just one heck of a jealous person. I believe this girl is decent, simple and God-fearing young
lady. she came from a very decent family. you cannot blame her if she has the beauty, brains, charm,
talent and wealth. Hat's off to her. God bless.
eralex :: 04/03/2005
 

KC Concepcion
Hello everyone. Please read this one.

===================================

Inheriting both halves of her famous family's cinematic legacy, the budding theater actress KC
Concepcion demonstrated a captivating flair for performing and exuding an angel faced aura much to
the fondness of the intriguing public. Being an actress is truly on her bloodline and there's no
stopping the prevalent veneration for this "PYT" pretty young talent.
The daughter of megastar Sharon Cuneta and once matinee idol Gabby Concepcion, KRISTINA C ANDRA
CUNETA CONCEPCION simply known as KC , was born in Manila , on April 7, 1985 weighing so fragile
at 5.2 lbs.. Her name coalesces from her mom's choice of the name Kristina and from dad's
attachment to the cl ic movie "C andra Crossing " thus evoking a beautiful and seemingly
immortal name Kristina C andra. An Arian herself, which has a fire element of ertiveness and
instinctive identity as well as spontaneity, KC however do not seemingly emanate this early the will
of Aries which is tension and p ion but instead just want to be just any ordinary girl who have
different sides to everyone.
Her childhood was a dreamworld having sired with a backdrop of fame, fortune and fanaticism, thanks
however to her mom's stanch guidance that she grew up just like any other silver-spooned benevolent
child. Until the poignant part of a fairy tale came when her parents parted for good, that they were
the focal point of public sympathy. We reminisce the little KC on moments such as when she stood
nonchalantly on her mom's side while we listen to Sharon's rendering that Christmas song "Pasko na
Sinta Ko" on a TV show or that cute tissue giver at her mom's frequent sobs on her live concerts.,
or that delightful grin which is a dead ringer of her dad's charming look whenever her mom greets
her daughter among the live TV audience.
As the world turns, her life too has full of promises and transformations given a surrogate father
that is Francis "Kiko" Pangilinan, her mom's new found love and a baby sister Simone Francesca
Emmanuelle.
She values her family more than ever and she constantly speaks of love and affection towards them.
In fact her relationship with her mom is more than just the usual mother-daughter bonding but more
than that of profound friendship.
Now comes the exciting part of her life, her teenage years. Her mother both fostered and resisted
the notion of her photogenic daughter's lure from the world of entertainment denizens, which
eventually however was displaced by near being a stage mother , knowing that KC, an emergent
thespian logged her first professional credit on the legitimate world of theater. She auditioned
herself in the musical play "The Little Mermaid" without drawing as reference the fame of her
parents. At this point, she's the most sought after face in the world of fashion having signed a P5M
deal with a fresh Bench TM line called Human.
On top of this newfound hectic sked, KC prioritizes her studies at International School, in fact
she's on the honor roll, a member of the school choir and an officer of various school
organizations. She's likewise enthusiastic and dynamic on such extra-curricular activities like
soccer and swimming.

eralex :: 04/03/2005
 

2 everyone...
hi to all.. im not angry to those people who keep saying bad things about KC but im really
dissapointed. why are they so judgemental? even if i havent met KC personally, i know she's a
kind-hearted gal and loves her family so much. she's not like other people who pretends to be nice
but not really.. i can say she's the loveliest, sweetest, kindest, humblest, most cari๑osaand most
down-to-earth person that i know.. she has a great faith and values her family
above all else.. i guess thats the best attitude anyone cud hav.. she didnt put all the fame in her
head unlike other celebrities. for her having so many suitors, that's just natural coz she's a
very beautiful person inside and out.. no one can blame those guys, she's almost perfect na eh..
and about her changing family name, we cant decide for naman di ba? she has her own mind and i know
her Papa GAC approved to that. KC is now a grown up woman, she has the right to do things that would
please her..but because of her kindness, she thinks of other people first. i dont say we should all
look up to her, but please respect her. let's say she isnt pretty, but beauty isnt just about the
looks.. personality ic the best!
:: 07/03/2005
 

Hi!!!!!!
Kung sino man nagsasabi ng masama kay kc look your self and compare to kc. she's very intelligent
and beautiful. sana bigay niyo naman sa kin address ni kc cell no. niya pls. paki na lang sa
freindster ko.THANKS
:: 08/03/2005
 

email your idol!
KC's real email add is kristina_
:: 11/03/2005
 

email her now!
im so sorry i can't give you her number,for personal reason. or even her address. Hope you all
understand...thanks! continue supporting KC...God bless!
:: 11/03/2005
 

KC as BELLE!
hey kcnians! watch out for KC playing the role of BELLE in 'BEAUTY AND THE BEAST'.....for tckets
inquiries, call atlantis production 8927078 or 8401187
:: 18/03/2005
 

ATTENTION PLEASE!!!!
sa lahat ng
nandito.............................................................................................
......................................sino ang nanonood ng full house????pls???im depressed!!!!sisa
asan ka na???? KC ilabas mo si BASILIO....si papa bear ay malaks, si mama bear ay maganda, si baby
bear ay si KC!!!may tatanong ako sa inyo pagnagkarera ang rabbit at mabilis na pagong cno ang
mananalo??? syempre ung pagong kasi mabilis siya... eto pa pag nagkarera ang rabbit at
naka shades na pagong sino ang mananalo??? siyempre ung pagong pa din kasi nung pag tanggal niya ng
shades niya siya pa din ung mabilis na pagong!!!!!bwakekekekekek!!!!!
:: 19/03/2005
 

KC CONCEPCION

KC'S THE BEST. SHE DESERVES EVERYTHING SHE
HAVE!!!!!!!!!!!!!!!!!!!!!!!!!!!!!!!!!!!!!!!!!!!!!!!!!!!!!!!!
:: 19/05/2005
 

hi.......
to all kc concepcion fans club, we all know that she's very good actress like her parents. she's
very diserving to have that good comments. magaling na, maganda pa! aside from that maganda din
boses nya, bagay na bagay sa kanya ang role ni BELLE.

sa lahat ng mga nagsasabi ng masama tungkol kay KC, alam ko inggit lang kayo...... ang layo nyo sa
kanya!
:: 01/08/2005
 

is that utt?not nutT?
erkk..i have stomach ache..bye!
:: 17/08/2005
 

Angela is so ugly.
hoy Angela ang kapal mo.sabi mo ugly si kc.siguro silos kalang dahil wala kang ganda tulad ni kc.ang
kapal mo mamintas mo.ano ang pinagmamalaki mo?ank kaba nang may pangalan tulad ni kc?magdasal
kanalang para patawarin ka sa mga kasalanan mo.dahil pintasira ka.
eden :: 12/03/2006
 

ANGELA IS UGLY
YOU ANGELA YOU SO SO UGLY LIKE A MONSTER.SHUT UP NO ABOUT KC.BECAUSE YOU DON'T KNOW KC.
rex :: 12/03/2006


Just wrapped up my thai serial so it's now time for a break. Thank you for all the e-mails.. look out for the new thai site that will bee launch within the international site!! If you can't read thai just go in and check out the pix you'll get kicks cuase the site will showcase shoots from way back then.. take care all!!

UTT

archived journals...
Do you want to become a superstar in asia?
UTT: No i'm fine the way I am I think that's an odd term I like to keep it real and take it ez and go with what I feel comfortable with ..as in choices with work and what country's I have the opportunity to work in.
What's your real name?
UTT: It's Uttsada but there's different spellings to it.. UTT is a nickname from
my real name

What's your favorite role?
UTT: Right now would be comedy, i'm in a comedy
drama in Thailand right now and I enjoy it really much.
where would you most likely be seen pattaya or bangkok?
UTT: Bangkok that's where I live and where I have little time to be since I'm
always off everywhere.

Do you usually reply on the webboard?
UTT: No I don't usually have time I did post when the site was first re-launch I
update everyone with
my monthly journal.
is it true that you're engaged?
UTT: It could be true depending on what you think... 5555

Does UTT have a twin?
UTT: No I don't have a twin I only have one younger brother who sometimes may or may not look like me epending on people's perceptions. I have friends in the biz who I may resemble and might get us mix up as brothers or one another.
Is UTT a mix-blood?
UTT:Yeah I can be all mixed up but I'm not.
Latest works?
UTT:I'm working on (Chon-la-mun wun-ruk) Mixed-up Love with Channel 7 in Thailand we're only 10% into production right now, that and balancing MTV.
And CHASE is airing in Singapore on Channel 5.

Does UTT reply to e-mails?
UTT:I read most to all the e-mail's it takes me too long to answer e-mail's..being busy and all my webmaster's on my case for not answering questions that's why it's being compiled :)

What kind of girls do you like?
UTT:I like asian girls because they're sweet and gentle

What does the tattoo mean?
UTT:It's a hindu tamal ohm that means peace - god is universe I like the meaning!!