Interview Monica Baretto

Guy Interview
Utt stuff
Get to know the drop-dead gorgeous and super friendly MTV VJ with the weird name.
(Read on to find out why he thinks he's like a dog)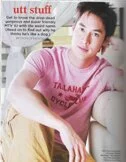 17: Does your name, Utt, actually mean anything?
Utt: It's from Uttsada. My whole name is Greg Uttsada Panichkul. According to my mom Utt means "the sky" – the sky's the limit. Greg is my American name. My boss thought that Utt would suit me better as an ethnic VJ.
17: How long have you been with MTV?
Utt: I've been with MTV for six years, but I've only been based in Singapore as a network VJ for two years.
17: How long do you think you'll be doing this?
Utt: As long as I have the drive to and if I'm still content with the work I do. What comes out on screen is basically how I feel. I think once that stops I have to move on to the next thing. But I don't have any plans. I just kinda like to go with the flow and take it easy.
17: Is being an MTV VJ something you've always wanted to do?
Utt: Becoming a VJ is almost every teenager's dream thing to do. While I was growing up in the 80s, I grew up with the whole MTV genre. Every kid out there wanted to be a VJ; I just didn't think it was possible for me to become one.
17:Why?
Utt: It's quite far off from what I thought was possible because I was so camera shy. I never thought I would be in the enertainment business or that I would be doing what I'm doing today. But looking back and seeing where my career is now, it's pretty cool.

17: What's the best part of working with MTV?
Utt: Wow! It's having the ability to travel, meet people all the time, and at the end of the day I can just be myself in front of the camera. It's just great! On the contrary, the sad part is not having enough time to do some of the things I want to do.
17: Who are some of he more interesting celebs you've met?
Utt: I like [David] Beckham; he's pretty cool and down to earth. He made me feel very comfortable. I just didn't expect his voice to be squeaky and high. Alannis [Morissette] is pretty cool too.
17: Aside from MTV, what else keeps you busy?
Utt: Well, I've been hosting shows for more than 10 years now. I also have a passion for acting. I do soap operas back in Thailand. It's very tiring, though, having to juggle work and fly from Singapore to Thailand almost every week.
17: What roles do you play on the soap operas?
Utt: It depends. It can be a variety of roles. The last one I did waws as a young advertising executive who was basically a player. My character had three girlfriends.
17: Are you like that in real life?
Utt: [I'm] not exactly a player, but every time I have a role I bring some sort of myself into the character.
17: Any proposals from girls?
Utt: Yeah! A lot (laughs). Sometimes girls send me their g-strings.
17: Are you in a relationship now?
Utt: No. It's hard being in a relationship because I travel so much. It's easier to sustain short-term relationships.
17: So do you have those ( short term relationships)?
Utt: Sometimes, yeah! No, I'm just kidding!
17: What's your girl type?
Utt: I like Kristin Kreuk type of girls. I'm in love with Jessica Alba right now. Have you seen Honey (Jessica Alba's latest movie)? Oh, honey! I'm not so attracted to Caucasian girls. I like Asian girls more.
17: What were you like when you were 17?
Utt: At 17, I thought I knew a lot but I didn't. I was probably more matre then than I am now (he's 29). I think when you're younger you wawnt to grow up much faster so you think you know the world. [But] As you grow older, you see the world and you're more chill.
17: So, are you having more fun now?
Utt: Yeah! At 17 I was too intense in life and I grew up with a lot of responsibilities. So I lost a sense of being young and I think that's what reflects in me. Now, I bring a lot of youthfulness in the work that I do.
17: How would you describe yourself?
Utt: I'm probably like a apuppy dog (he says while lifting the pug on his lap). I'm loyal, playful, and at times I'm innocent. I can still look at things from a different point of view.
17: Here, when guys are described as dogs, it means something negative. Did you know that?
Utt: Oh, really? Okay, maybe I meant that in two ways(laughs).